What if you could reach those remote places you never take your standard bike? Or better still, never have to worry about hauling your bike behind your car ever again?
The last couple of years has seen many people using e-bikes for their day-to-day activities. This trend has brought the design and modification of electric hunting bikes.
Whether you are a hunter, nature photographer, traveler, or farmer, you need something that will help you to find your way in and out of the woods with ease.
So, if you want to know the best hunting e-bikes when it comes to tackling rough terrains, then continue scrolling!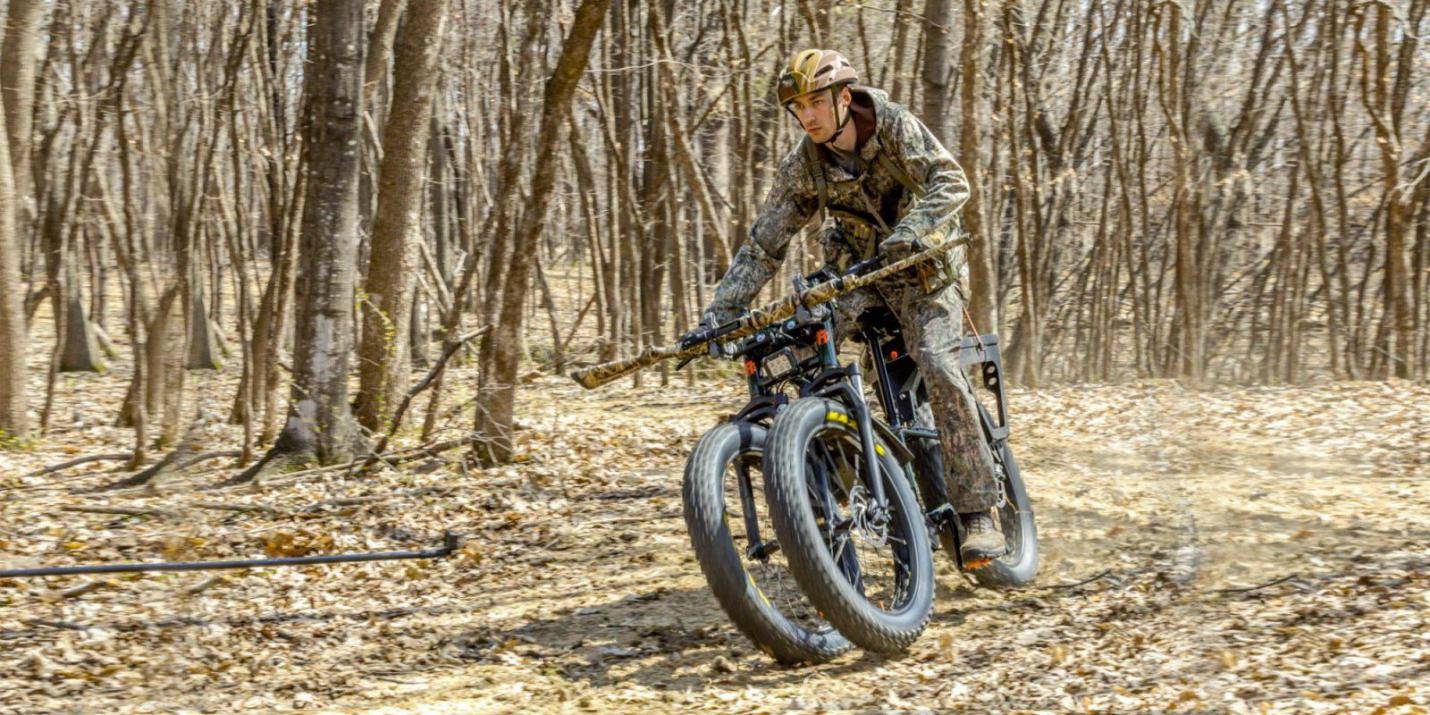 What are electric hunting bikes?
Electric hunting bikes are modernized regular bikes that have been equipped with a motor, rechargeable battery, and controllers. All these features work together to give the rider a stellar outdoor experience.
There are two different types of hunting e-bikes. High-end electric bikes have powerful motors that allow you to cruise the wilderness without pedaling, and low-budget e-bikes that have small motors that only assist you in pedaling.
Most electric hunting bikes have a top speed of 35 mph. This gives confidence in diving deeper into the wilderness with the assurance of always finding your way back faster.
They tend to vary in size and price. High-end hunting e-bikes cost thousands of dollars while the low-budget ones just go for a few hundred dollars.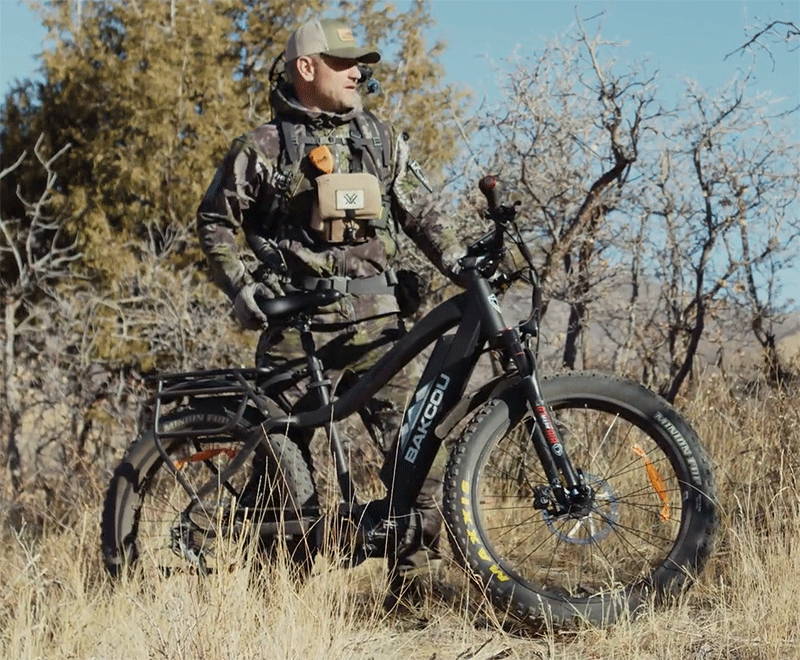 Are e-bikes good for hunting?
There is no doubt that e-bikes are changing the landscape of hunting.
Many hunters are considering hunting e-bikes as compared to standard bikes due to the ease and flexibility of climbing hills and traversing rough terrains and woodlands.
They have a large battery capacity that increases their range. On average, you can travel up to 60 miles without pedaling.
Noise is always a big challenge when it comes to hunting. You need to maintain low noise levels to catch your prey off guard. The virtual silence and no scent trail capabilities make electric hunting bikes suitable for any modern-day hunter.
That's just the tip of the iceberg, let's have a look at what electric hunting bikes bring to the table.
Benefits of using an electric hunting bike
Increased carrying capacity
When going out to hunt, you need ample storage space to fit in all your essentials. That may include your hunting gear, foodstuffs, and of course shelter (for remote hunting). Unfortunately, standard bikes have limited to no storage space which leaves you carrying heavy backpacks on your back.
That's why e-bikes come in handy thanks to their saddlebags and pannier racks that allow you to fit all essentials in one place. You can carry lots of gear up to 300lbs on your hunting e-bike without any hassle. Attach the bike to a trailer, and carry even more.
Improved Stability
If you enjoy diving deep into the wilderness, then you need a bike that can tackle rough terrains without slowing you down. Fat tire e-bikes have tires built with more rubber and air offering a lower air pressure framework.
This means that anytime you hit a hard rock or porthole, the tires can cushion the impact allowing you to maintain control of your e-bike.
With this feature, you can now reach places you never thought were possible.
Stealthy Movements
One of the major pros of an electric hunting bike has to be its whisper-quiet operations. It makes it easy for you to scout areas, prey on your game, and access your deer stand or duck binds with as little noise as possible.
Unlike SUVs and trucks, e-bikes don't use gasoline engines. They rely on electric motors for propulsion that leaves no scent trail at all. Additionally, fat tire electric hunting bikes are camouflaged providing virtual silence as you are on the lookout for that white-tailed deer.
Most Rambo hunting bikes are designed to ensure that the rider can get in and out of the wilderness silently.
Best electric hunting bike
There are many e-bikes used for hunting these days. Although most of them can handle rough terrains, there are still a significant number of hunting bikes that don't live up to buyers' expectations.
That's why we have come up with a list of the best electric hunting bikes in terms of performance, price, features, and specs.
The best hunting e-bikes are;
1. Bakcou Mule Elite Electric Hunting Bike (best-selling hunting e-bike).
2. Rambo Megatron X2WD Electric Hunting Bike (best all-wheel drive hunting e-bike).
3. 2022 Rungu Dualie XR-Rubicon Trail Edition (best 2 wheel hunting e-bike).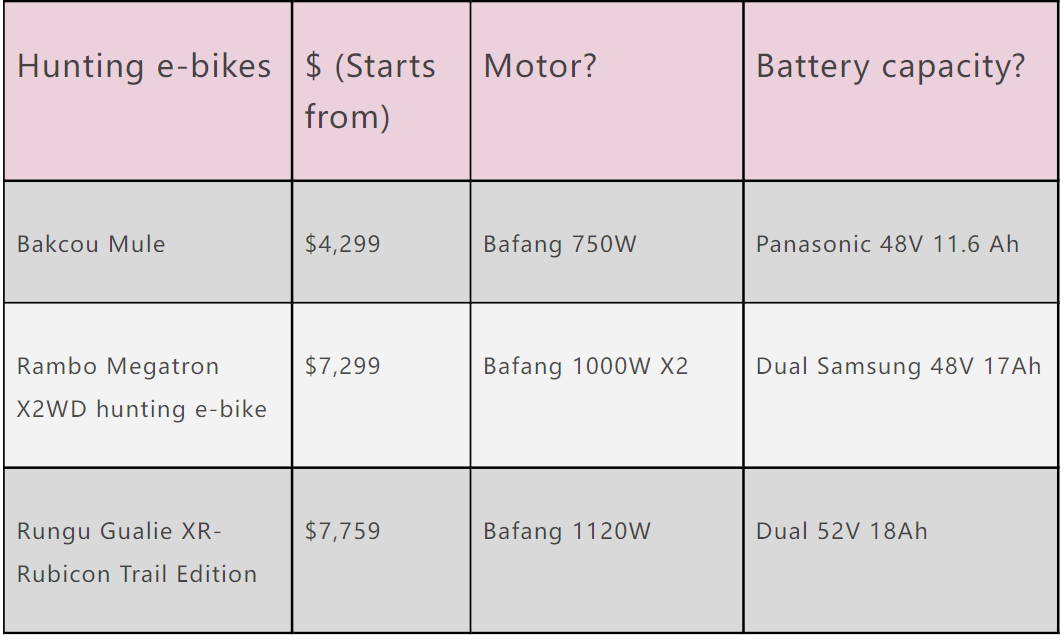 Bakcou Mule Elite Electric Hunting Bike
Are you the kind of person that settles for nothing but the best? Do you want an e-bike that can easily handle any type of road? From gravel to timber trails, and bike paths? Then the Bakcou mule elite electric hunting bike is the best option.
This model can tackle anything you throw at it thanks to its Ultra mid-drive Bafang motor. Its latest version features tire liners, rear racks,front lights, fenders, and 740mm handlebars for greater stability.
The mule comes in at standing over height of 30 inches suitable for riders over 5'9''. It also has a lowered crossbar to allow the rider to get on and off the e-bike much more easily.
The design comes with two power options- 750 watts and 1000 watts. The 750 watt has a top speed of 20mph while the 1000 watt has a top speed of 35 mph without pedal assist.
Additionally, the mule has a 48V 11.6Ah Pansonic battery that has a range of up to 40miles on a single charge.
Aside from the powerful hydraulic 2003mm disc breaks, this trail monster is equipped with an LCD that ensures you always keep your speed and battery life in check.
What makes the Bakcou Mule Elite stand out?
This beast features the walk-assist mode. If you are steep slope, all you have to do is get off the bike and switch to the walk-assist mode in this e-bike. Then engage the motor at 2.5 mph and the Mule will do all the heavy lifting as you walk beside it.
Rambo Megatron X2WD Electric Hunting Bike
The Rambo Megatron X2WD is one of the best electric bikes in Rambo's lineup. Featuring two motors and two batteries, this model is more than capable of climbing mountain hills, navigating marshy terrains, and steep descents.
Rambo Megatron X2DW features dual battery units, both 17Ah allowing you to cover over 80 miles on a single charge. Dual 1000 watt hub motors give it an all-wheel-drive capability to provide the maximum torque that you've always desired.
One advantage of having the Megatron is that you can still reach your destination or back home in case the chain snaps. Why? The hub motor that rotates the wheel can still propel the bike even if the mid-drive motor is disabled.
Additionally, this model features 26" X 4.8" fat tires to enhance stability and comfort when riding on Gravel or unrugged trails.
Rungu Dualie XR- Rubicon Trail Edition
The Dualie XR was first designed for cruising the Californian sandy beaches. Soon after, it became popular among desert hunters before finding its way into the modern global market.
True to its company's slogan, "Far more stable. Far more able", the Dualie is one of Rungu's flagship e-bikes used for hunting and is packed with top-notch features.
The Rungu Dualie features 2 fat front tires each having its suspension. This makes it a perfect fit for off-roading in deep sands, rocky terrains, and snowy trails.
Research conducted by Rungu shows that many e-bikes put too much weight on the back completely forgetting the front side. This leaves the front very light and prone to roll-overs. The Dualie XR hence works on a 75/25 weight distribution framework that ensures wheels stay on the ground while riding uphill.
Rungu Dualie XR features a dual 52V 18Ah battery capacity that allows you to travel at least 32 miles without pedal assist.
How to build an electric hunting bike?
Let's face it. Electric hunting bikes aren't CHEAP!! Coming in at $4000 - $8000 for high-end hunting e-bikes, it becomes even harder to acquire one if you are on a tight budget.
That said, you may only have one option remaining. Make one for yourself. Although the installation process is quite tricky, it will save you a lot of money in the long run.
But first, there are a few things that need to be put into consideration before converting your standard back into an e-bike. For example, the landscape you are riding on. Is it hilly or flat? If it's hilly, then you should consider purchasing a motor that ranges between 750 watts and 1000 watts. Anything lower than that isn't capable of handling uphill riding.
Another thing to put into consideration is the weight of your current bike. Can it be able to withstand an added weight of a battery, motor, and controller? Putting too much weight on the bike might make it slower and incapable of tackling rough terrains.
Now that you know what your bike can or can't handle, it's time to buy an electric bicycle conversion kit. This is what you are going to use in converting your standard bike into an electronic bike.
Most of the conversion kits unfortunately don't include the battery- which is often the most important component of an e-bike.
So when choosing a battery, it's advisable to go for the one with adequate power and speed for tackling woodlands and steep slopes. We recommend getting a battery ranges between 36 V - 48 V.
Lastly, it is preferable to pick a rear motor for your hunting bike. Why? Rear motors ranging from 500W to 1000W perform compared to front hub motors. Installing high-powered motors on the front panel leads to burnouts due to being lightweight at that end.
But best of all, you can go for the front and rear motors and create an all-wheel-drive e-bike.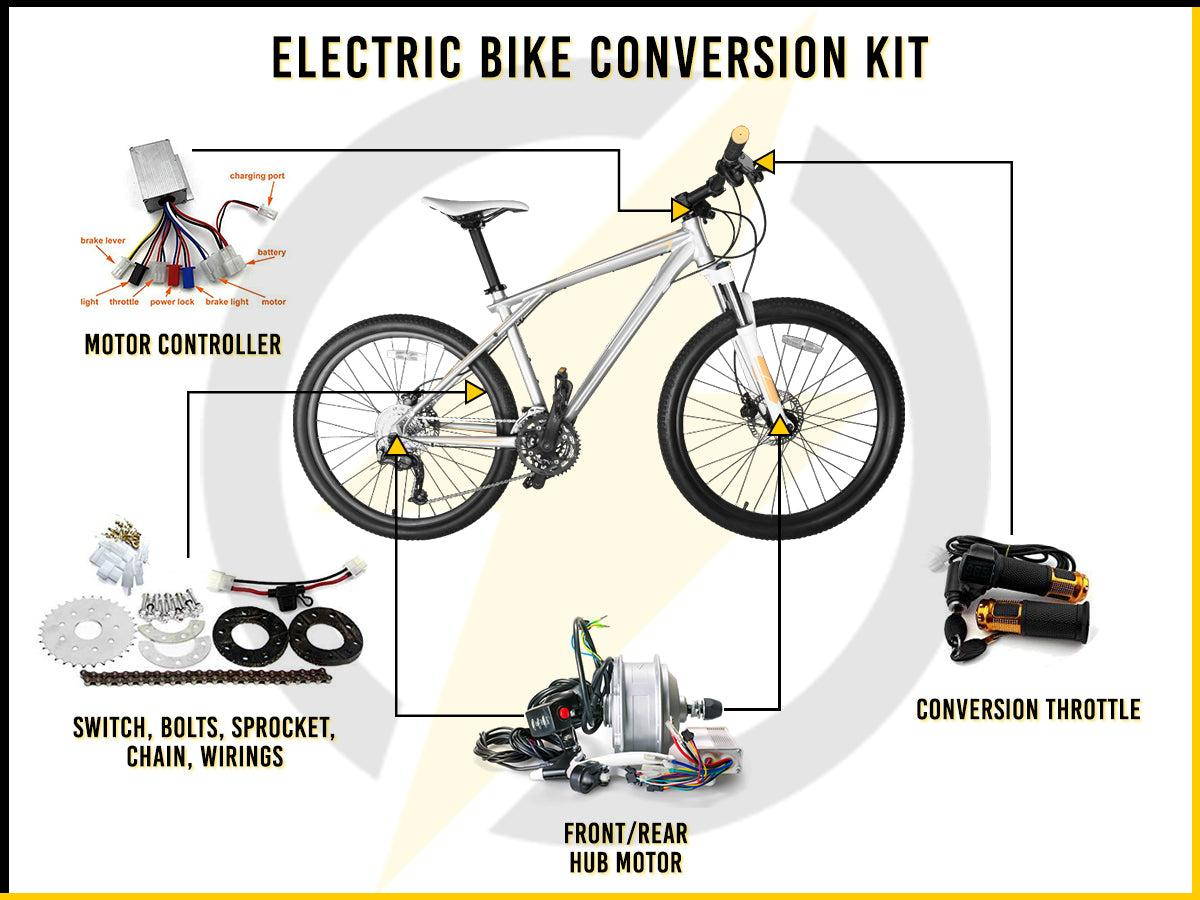 Installing an electric conversion kit
1. Remove your old bicycle wheel. Replace it with the electric hub motor wheel. You can recycle or use a new inner tube for the motor wheel.
2. Install the speed controller onto the frame.
3. Bolt the throttle.
4. Connect the battery to the speed controller.
5. Ensure that all wires are zip-tied to avoid tangling with the peddles.
All you have to do afterward is to take your e-bike for a test drive.
How about an electric safari bike?
This is quite a good alternative for the electric hunting bike. Although it has a lower voltage battery, the electric safari bike is easy to ride and handle.
The most common electric safari bike is the Kudos Safari Electric Bike which features a 36V 10Ah Lithium battery. You can carry all your heavy gear using its pannier bags.
How much is an electric safari bike?
An electric safari bike is cheaper compared to all these other high-end hunting e-bikes.
Prices start at $950.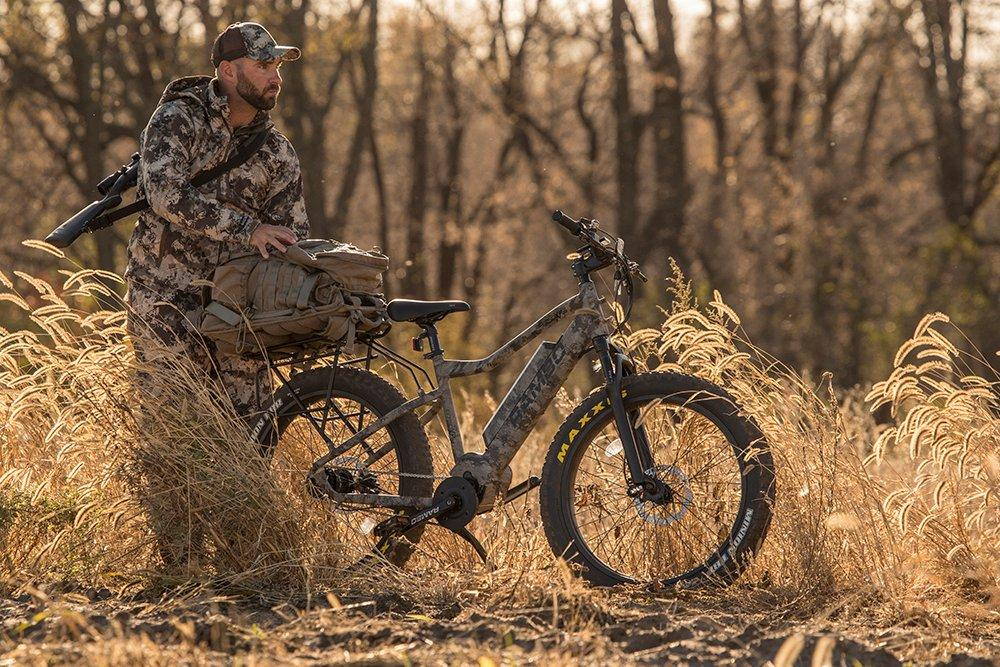 Conclusion
Every hunter needs an e-bike specifically built for hunting to provide an excellent experience in the jungle. With a powerful hunting e-bike, then all of your worries are taken care of.
From the electric hunting bikes mentioned above, you can choose one that suits your needs. But first, you need to do more homework to identify the one that gives you value for your money.
Good Luck!